Throughout 2019 we worked on a selection of traditional songs from Jamaica and the Caribbean as collected by Walter Jekyll and recorded by Louise Bennet, the celebrated singer, folklorist and activist for Jamaican dialect.  
Of course, while these songs are regarded as uniquely Jamaican, they were all written and sung in English, or the Jamaican street dialect known as Patois. Full of wit and irreverent humour, if anything these songs demonstrate that folk music is first and foremost about telling stories and entertaining each other using song and dance – a very human practice!
Since the 1950's mento (Jamaica) and calypso (Trinidad) have become conflated into a broad genre of Caribbean music, commercialised since the 1950's and generally referred to as Calypso for marketing purposes. Pioneered by Lord Flea, Harry Belafonte, Lord Burgess and others, culturally and musically, it is clear that Calypso is the precursor to reggae, ska, dancehall and all the subsequent sub-genres that have followed.
This project has been generously supported by Arts Council England
Flow with the Rhythm by Bernard Hoyes
Louise Bennett known to people around the world as Miss Lou.
Miss Lou was a Jamaican singer, folklorist and activist for Jamaican dialect. Miss Lou's infectious and charming delivery of Jamaican folk songs captured the imaginations of Jamaicans of all generations and led her to be a much loved part of Britain's theatre and radio circuit.
Louise Bennett was born in Kingston,Jamaica in 1919, she laughingly stated that she was 'born under the clock' . In her schooldays it did not sit well with Miss Lou that in school she was only being taught well spoken English folk songs rather than songs & stories using the Jamaican dialect known as patois.
Walking on the streets of Kingston & Spanish Town, where she grew up a young Louise would hear street tales sung in patois and it became her passion to change the Jamaican curriculum. Her contribution to Jamaica's literacy campaign was significant, and then by her mid 20s she applied to RADA, the prestigious theatre school in London and became the first black student to study there.
3 months in to being enrolled at RADA, British audiences were introduced to this truly unique talent as she was given her own BBC radio show Caribbean Carnival. She was awarded an MBE in 1960.
It has to be said that Miss Lou was Jamaica's first real international star. Her comic delivery of telling Caribbean tales and her sensational delivery of interpreting classic folk songs such as Linstead Market, Yellow Bird and Long time Gal in a mesmerising comic sing song fashion had a remarkable impact on Jamaican singers and poets that had grown up learning her poetry in schools and hearing her on record and on the radio.
Miss Lou was a main stay on Jamaican radio, with the Lou and Ronnie show and Miss Lou's views. What a raconteur, sharing the trials, tribulations and good times of the Jamaican people in a dialect that was not bowing to the Eurocentric view of language. She instilled a pride in Caribbean artists that gave them an understanding that patois was a language in its own right.
Edward II's re-version of Miss Lou's classic songs continues a tradition that Miss Lou spent her life campaigning for. A pride in Jamaican heritage, and moving the Jamaican art form onwards. Edward II do this here with boutique collection of songs.
Long Time Gal featured in this collection was often the opener for Miss Lou's live shows where she would encourage the audience to sing along with her and take pride and understanding in the sentiment of the song. Miss Lou greatest gift was to recite breathaking snapshots of Jamaica's social complexity and Edward's inclusion of the song Cordelia Brown telling the story of young bi-racial girl with red hair informs us of the versatilty of Miss Lou's works
Louise Simone Bennett-Coverley, OM, OJ, MBE is now celebrated around the world on September 7 every year.
Born Sept 7 1919 Died July 26th 2006
Karen Gabay (Broadcaster)
Walter Jekyll
Walter Jekyll was a former clergyman, a musician and and friend of Robert Louis Stevenson in Bournemouth in the 1890s, (who asked if he could borrow his surname for his new book The Strange Case of Dr Jekyll and Mr Hyde) who moved to Jamaica in his middle years to work as a 'Planter'.
He was an early supporter of the famous Jamaican writer and poet Claude Mckay (he wrote the introduction to his book Song's of Jamaica) and was an enthusiast of Jamaican folk music and culture. In the latter part of the 1800's spent his time collecting and notating the songs and stories of the plantation workers. He authored and had published (through the British Folk Lore Society 1907) 'Jamaican Song and Story: Annancy Stories, Digging Sings, Ring Tunes, and Dancing Tunes' which provided much of the initial research and some of the source material for Edward II's Dancing Tunes CD.
Claude M
c
Kay
Claude McKay published his first book of poems, Songs of Jamaica, in January of 1912, in Kingston, Jamaica. The book marks the emergence of a formidable and new poetic voice. There is the marked influence of McKay's mentor, a white Englishman resident in Jamaica named Walter Jekyll, who encouraged McKay to write in patois. McKay went on, after moving to America, to be one of the great voices for social change of the early 20th Century.
However; and probably out of a desire to use his intellect to exert influence rather than celebrate his Jamaican heritage, his powerful and memorable calls for social justice in his subsequent poetry and stories principally used Standard Written English, and later New York slang.
Bernard Hoyes is the artist who very kindly let us use his artwork on the front cover of the forthcoming Dancing Tunes CD. His work is really incredible – powerful and spiritual, it conjures up the ancestral echoes of Jamaican culture while being contemporary and very much of the moment. We love his work – go and take a look. http://www.bernardhoyes.com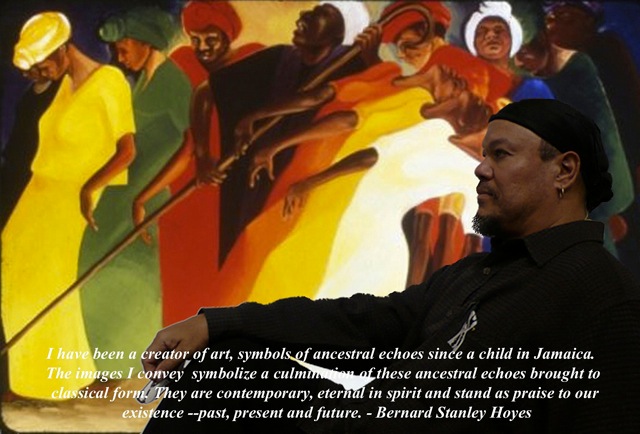 THE JOLLY BOYS